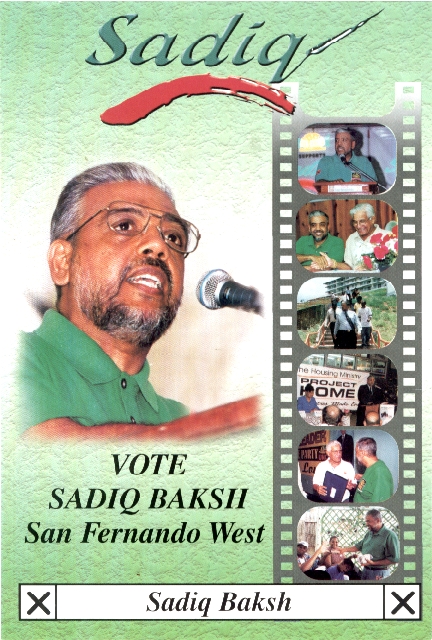 10 Reasons why you should Vote for Sadiq.
1. Always Accessible - Sadiq has seen over 10,000 Constituents at his office in less than a year, and has helped most of them with their problems. Even though he has office hours on Saturdays when he meets his constituents, he is never too busy to talk to any member of the public. He sees members of the public every Wednesday at his Parliamentary office on Jarvis Street. He responds to all letters and messages. As the Mnister of Housing and Settlements, he meets the public officially every Friday morning. However, he always makes sure he has time to talk to, and help people with housing problems.
2. Always Available - For community events, family and church gatherings, in times of joy or sorrow, celebration or commemoration, Sadiq is always there for you. When the floods hit San Fernando recently, Sadiq was there with food and volunteers for the clean up campaign. His personal motto is "Here to Help".
3. High Energy - Sadiq is tireless and keeps going and going, relentless in his determination to help and deliver goods and services, benefits and opportunities to his Constituents and to all the people of Trinidad and Tobago. No day is too long for Sadiq, no task too small. Sadiq works around the clock. He says, "There are 24 hours in the day, then there is the night!"
4. High Performance - Sadiq always delivers. Whatever he sets out to do, he acomplishes. The Cross Crossing Interchange, 53 Bridges, thousands of miles of roads and drains. 3,857 families have benefitted or will benefit from his activities for this year alone. 30,000 housing opportunities made easy. Sadiq delivers.
5. A People Person - Sadiq is a man for all seasons, reasons and people. He is the foot soldier and organizer par excellence. He might walk with kings, but would never loose the common touch, the gras-roots that has made him unique in the annals of Trinidad politics.
6. A Great Listener - Sadiq always has a sympathetic ear for everyone. He always has time to listen to the views, the complaints, the concerns and the ideas of his constituents, colleagues and, even his political opponents.
7. A Fantastic Representative and M.P. - San Fernando West never had it better. In less than a year, he has met over 10,000 of his constituents and has started his Walk0the-Talk meetings, visiting his constituents in their homes.
8. A Futuristic- Sadiq is always aware of the future and the need to plan for it. He is a futurist and visionary and feels that we must anticipate and even create change in order to manage the future better. He is an ideal leader for San Fernando, the industrial capital of our country. He is aware of what we must do in the future to restore the city to its former glory.
9. A Builder - Sadiq is for construction not destruction, for inclusion not exclusion. He is the right person for the future of San Fernando and Trinidad and Tobago. Instead of tearing the country apart, he is putting it together so that we can withstand the challenges of the future, and develop a successful and sustainable economy.
10. A Family-oriented and Deeply Religious Person - Sadiq is a family man, he established his own sucessful business which is now run by his wife and children. He is a Muslim but is at home in all places of religious worship and with all religions. Sadiq believes that the Almighty wants us to be the best we can be, that it is our moral duty to help our people to become the best they can be, and to make our country the best it can be.